We've had some hard frosts now so I've started digging out the root crops that I plan on using or storing in ernest now.
Up came the parsnips, some turnips to the chagrin of my hubby, carrots and beets. Most of these I leave in the ground under a coldframe and mulch. Carrots, at any rate, overwinter here without any significant protection, just a pile of leaves. The disadvantage is that you can't dig them up when there is three feet of frozen dirt.
I also yanked my
celariac
(a subject for another post) and my Jerusalum Artichokes: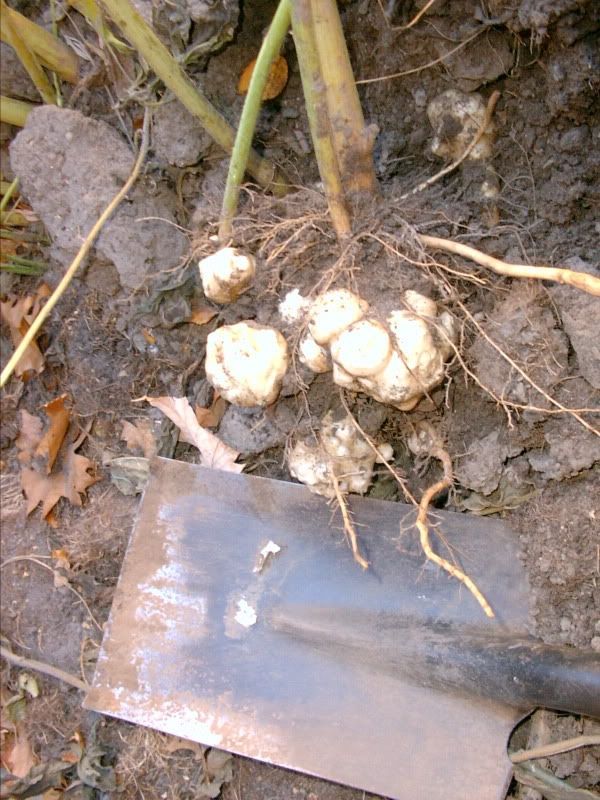 Jerusalum Artichoke tubers with a shovel for scale
I had so many that I was guilty of leaving bags of them on some of my neighbour's door knobs. Now, I know that some of these people have tasted JAs before, but for some they were mighty puzzled until I gave them a phone call to explain.
For those of you that don't know, in the summer, this relative of the sunflower produces Jack-in-the-Beanstalk sized stems topped with tiny weeny yellow flowers at the very end of the season. Their energy expenditure (besides going into producing these massive stalks) goes into producing knobbly, crispy, white, and tasty tubers.
Jerusalum Artichoke blackened by frost.
The first time I tasted them, I 'liked' them but was a bit surprised as I had not had anything quite like them and I will not try to describe them to you either. They can be used in much the same way as potatoes, but unlike this starchy tuber, the crisp JA can aslo be used raw in salads or for dipping.
But the best thing about this plant is that it is hard to kill, easy to grow, relatively pest free, nutritious and perennial. Oh and it contains a starch called inulin is save for diabetics (though some say it causes wind). Why doesn't anyone grow it?
Did I mention that it was hard to kill? Any tuber left in the ground will sprout and it is hard to get all of them. Some people curse this plant if they discover it left to romp unattended by previous owners especially as it is a descent screen but not a particularly decorative plant: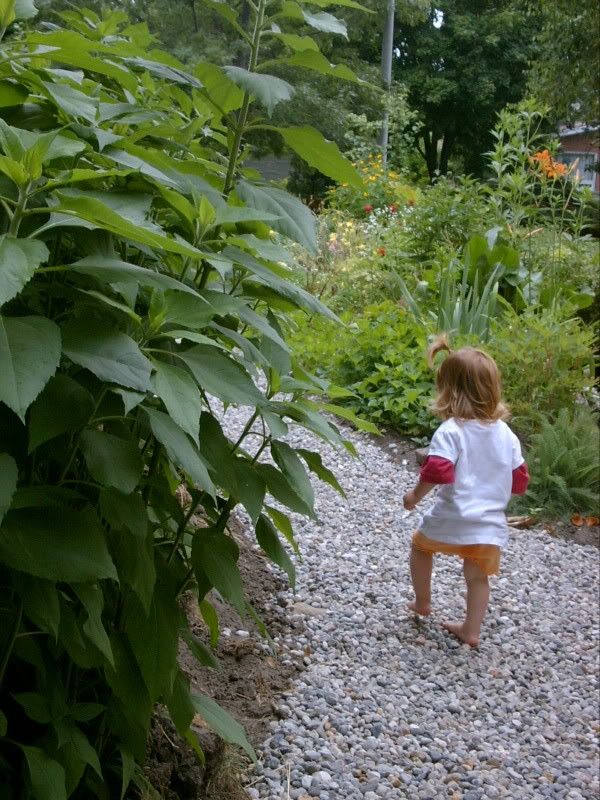 Jerusalum Artichoke - aka the Jack in the Beanstalk plant (credit to my neighbour for the nickname. She says she stares at it while washing dishes)
It does not store as well as other tubers, but can be kept a while (a month, two, accounts vary) in a moist, cool environment. I usually roast and puree mine then freeze to add to stews etc... Besides, depending on the year, it is diggable from September to November and then again from March to May so those are just JA seasons.
A pest for every plant
Okay, so it really is a great plant. Only I was a bit dissapointed to note that I had some root maggots. I would have looked for them but I hadn't expected to see them in this noted pest free plant. At any rate, they are easy to remove. Let's hope they are not too much of a pest next year.
Plant it and they will come...
Links
JA growing page
Mapple Farms - Canadian Distributor