It looked like we might have had a November tomato, but 2 days before, frost hit.
Black cherry tomatoes, various other tomatoes, and in the distance, eggplant all frost bitten
Sad, yes, but not to despair, I still have my cabbage, brussel sprouts, kale, chinese cabbage, tatsoi, broccoli, rabe, as well as root crops and other greens.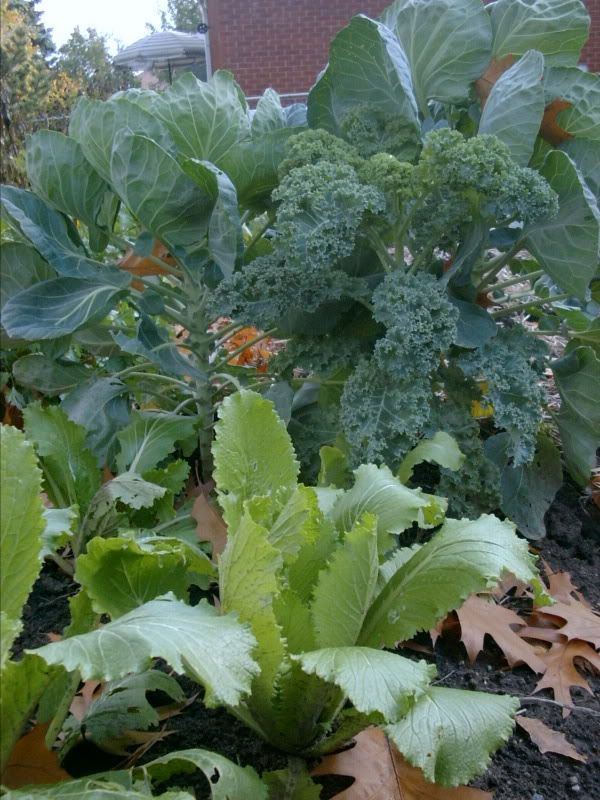 From foreground back: chinese cabbage, kale, and brussel sprouts
Caution Gardening 201
For the not quite novice, the forgetful, or the bored.
This is the tale of two vegetable families.
The solanums


tomatoes

peppers

eggplants

potatoes

etc...

These are warm weather lovers. They drink in the sun, and fear frost. With the exception of the potato, it is the fruit that we eat. They should be started between 6-8 weeks before the last frost date, eaten with gusto at the height of the season, and then bid farewell to at first frost in the fall.
For most neophyte table gardeners, tomatoes are at the top of the list of vegetables they grow. They are relatively easy and the taste fresh from a backyard garden is without comparison. I credit the growing requirements of the tomato as part of the reason that so few beginner gardeners are aware of the best practice for growing another group of veggies.
The brassicas:
Cabbage

Broccoli

Many chinese greens including bok choy, tatsoi etc..

Turnips

Collards

Brussel Sprouts

etc...

Ah, delicious and very healthy brassicas, all are quite cold tolerant. Some are extremely hardy and will survive vicious winters in a cold frame, such as kale, tatsoi, and mustard greens. Others, require a bit more pampering but like purple sprouting broccoli, will happily overwinter in mild winter areas. Most, in fact, prefer cooler weather. Or, should I say, that to get the most out of the vegetable and prevent bolting, you need cool temperatures. For gardeners with a short growing season or little strong sun (because of fog or rain or both) or where it is rarely warm enough to grow a good beefstake tomato, these crops fill in the garden.



Left to right, brassica, parnsips and parsley then dead solanums.
They can be put out when soil temperatures are still on the cool side. Under cloches, and coldframes, I started some fabulous savoy cabbage this year when we were still having light snowfalls. The quick growing brassicas, like short season cabbage, spring broccoli, and any of the leafy greens such as broccoli rabe and bok choy are great early season choices. If you don't have a coldframe, try pop bottle cloches.

Then mid-summer, start another crop of the quick growers to mature in the cool temperatures of fall. Many brassicas such as brussel sprouts and turnips, taste better after being bitten by a few frosts. Starches are converted to sugars to lower the freezing temperature of the vegetable so they are sweeter.

Even if you don't love these tasty treats (and how could you not LOVE BROCCOLI???), grow them just so that your garden doesn't look so sad after first frost.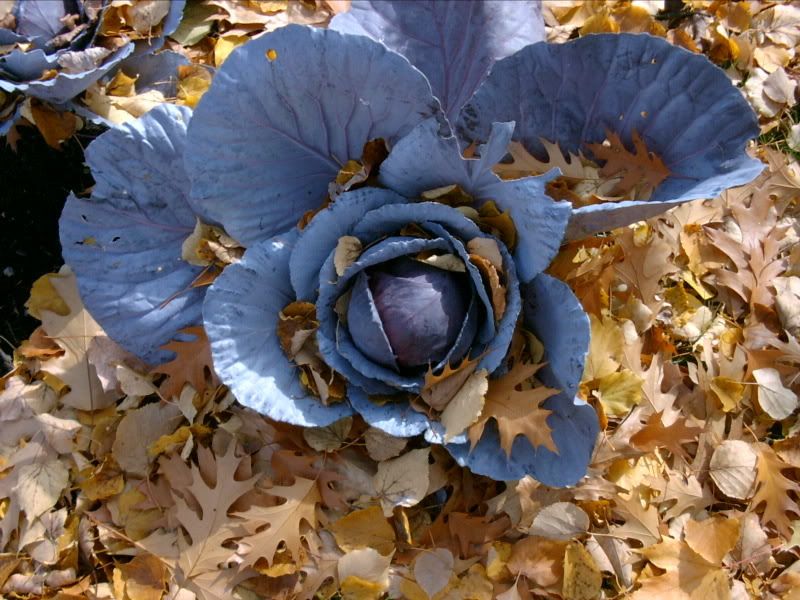 Long season purple cabbage beautiful contrasted with fall leaves, don't you think?
Links
Coleman's Four Season Harvest
Fall Crops - tips on planting
Fall Crops - an equation
Virginia Tech - brassica growing tips