Note to fellow gardeners (and self):
It's that time of year to share your seeds. Think of those annuals that could easily be mistaken for perennials because of their consistent tendencey to reseed themselves. You always have a supply of cosmos, more or less in the same spot, without even trying.
Instead of just enjoying the bounty, why not share? You know that come next year, you'll be spending some of your weeding time removing the crowded volunteers of calendula and alyssum anyhow so collect some of those extras as seeds to give to your fellow gardeners.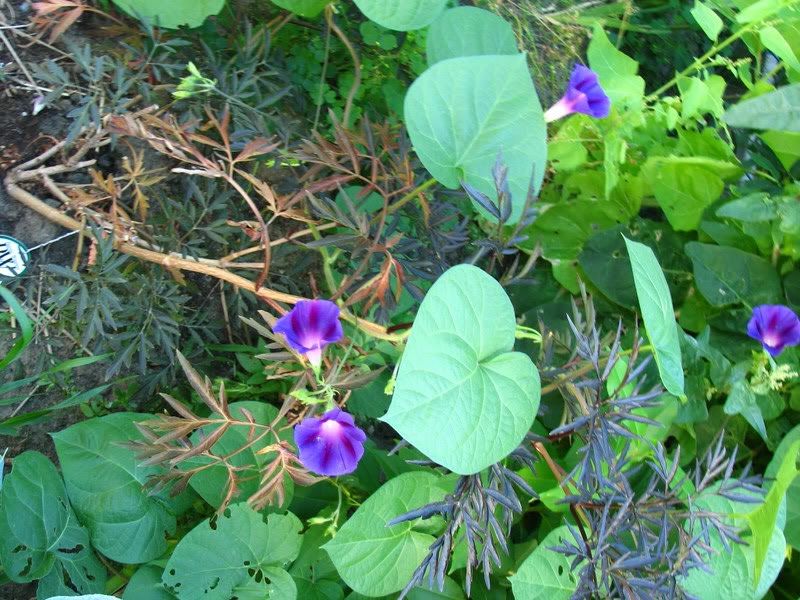 Black lace elderberry intertwined with morning glory.
Note to self (and fellow gardeners):
Think of how much money seed companies are making on some of those seeds that your neighbour is ruthlessly weeding out and tossing on the compost pile. If it's touted as heritage, heirloom, open-pollinated, easy to grow, and re-seeding, heck someone you know may well grow it.
Here are some easy to collect favourites:
1. Cosmos
2. Morning Glory
3. Calendula - herb
4. False Sunflower - native
5. Poppies
6. Bachelor's Button
7. Nigella
8. German Chamomile - herb
9. Fennel - herb
10. Parsley - herb
11. Nicotinia
12. Cleome
13. Amaranth - herb
14. Orach - herb
15. Alyssum
There are lots more and your growing conditions may allow for more or less annuals to self seed. Let me know what works for you!
Links:
Seeds of Diversity
- a network of seed savers, and information.