In a good year, frosts are mild by mid to late April, and with minimal protection, my brassicas do just fine. This is not a good year.
Buttoning or the formation of a small head in broccoli, cauliflower and other brassicas can be caused by excessively cool temperatures when plants are young. (under 45 F / 7 C)
It is cold right now, going well below freezing at night. But my brassica babies are in need of a little leg room and a lot more light:
Cabbage and broccoli seedlings 6 weeks old
So even though I know that the dreaded 'buttoning' might occur, I have put them out but not without a little protection: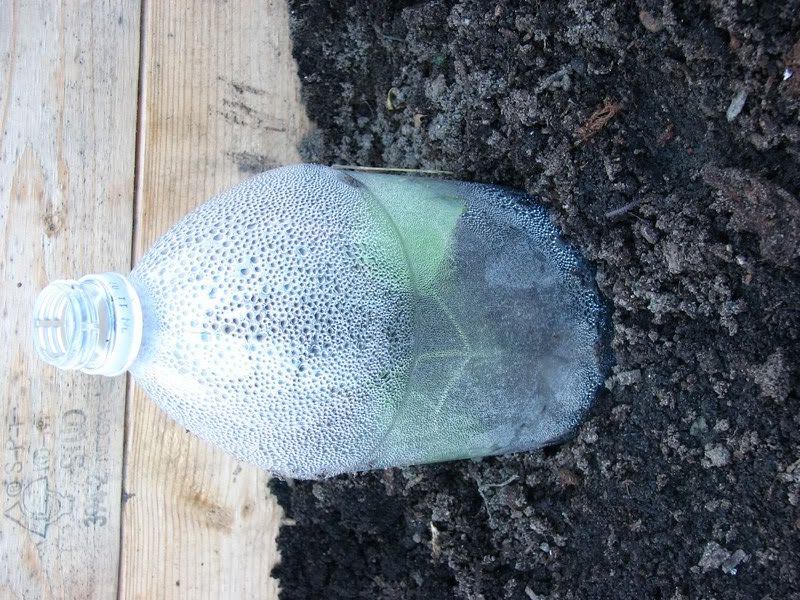 Broccoli seedling inside of pop bottle cloche inside of cold frame.
Meet the pop bottle
cloche
. Simple to manufacture. To give you instructions would be insulting but just in case you are really not with it right now, here are the bottoms: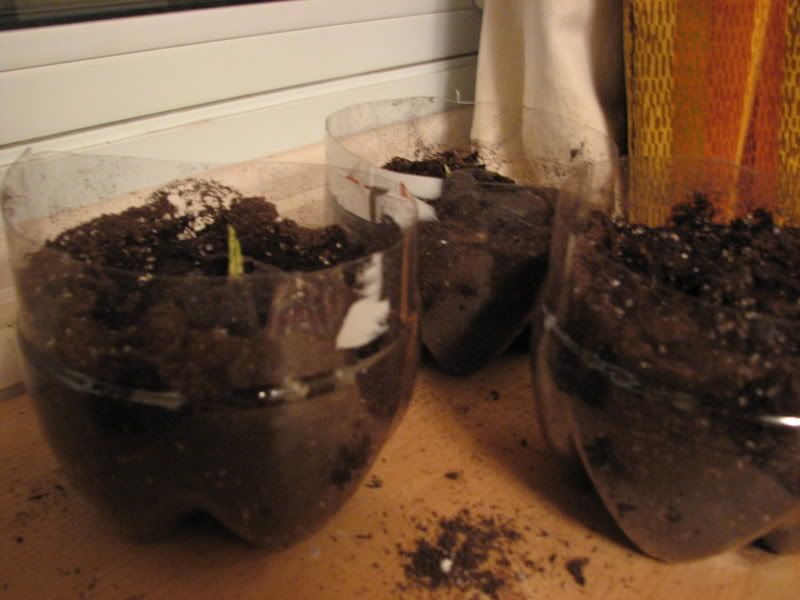 Chufa nuts, just sprouted planted in pop bottle bottoms
From that, I imagine, you can deduce the rest.
"Hello in there broccoli."
I spy broccoli with my little eye
These pop bottle cloches are inside of a cold frame. This may not preven the dreaded
premature head but it's worth a try. In the meantime, I have started a new batch of broccoli that will not be put out until the magic number 7 (degrees Celcius) is held most of the time.
Links:
A random how to grow broccoli page
More buttoning details

Interesting historical pictures of season / climate extension
You Grow Girl
was much more creative with her pop bottle cloches - I love the protective ring idea.
Janet's Garden
- some good ideas are like rocks in the road, hard not to trip over (the comment was directed at myself). Another great use of the pop bottle cloche
Soda bottle cloche
Playing in the dirt
- another convert
I wonder how many other frugal gardeners out there re-invented this weather moderator?