Didn't enjoy the crocuses in my last post?

Feeling like craning your neck at a disaster?Check this out: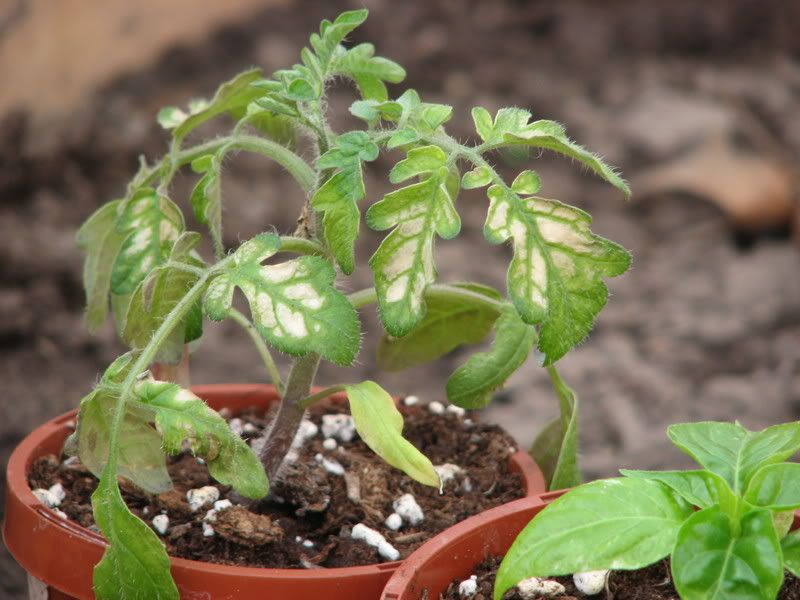 Oh yes, it's a frost burnt tomato plant. (obviously it was only a little singed or it would be a gonner). I listened to the forcast that called for a mild night and left my babies in their mini greenhouse on the front porch. When I woke up in the morning, I was filled with cold dread as I noticed that my overwintered pepper was wilting. But I watered them last night, I thought. Oh no... frost. It has to be frost. No, wait, perhaps it was just that they were too cold and weren't able to take up water. Phew, at least the tomato plants look okay. I'll just try not to think about it until later on this afternoon. They'll perk up. They will. Won't they?
(several hours later I arrive back home)
It's a miracle! I'm sooo sorry I left you poor little dears in the cold. Never again. Oh wittle babies... you're okay. Wait, what's wrong with the tomato. Damn that frost! At least it's not dead... serves me right. Lesson learned.
Love your tomatoes and they'll love you, or at least give you some tomatoes.
Disclaimer:
Sun and wind can also cause similar discolouration and leaf drop in a syndrome I like to call 'BPP or bad plant parent.' Always harden off with caution.

Join
Gardeners, Plant and Nature lovers can join in every Sunday, visit
As the Garden Grows
for more information.