Perhaps, followers (humour me) of my overwintering pepper saga are curious what has happened to the darlings now that they have come out the other side of darkness and cold.
Well, fourty leaf fatali has a little surprise for us: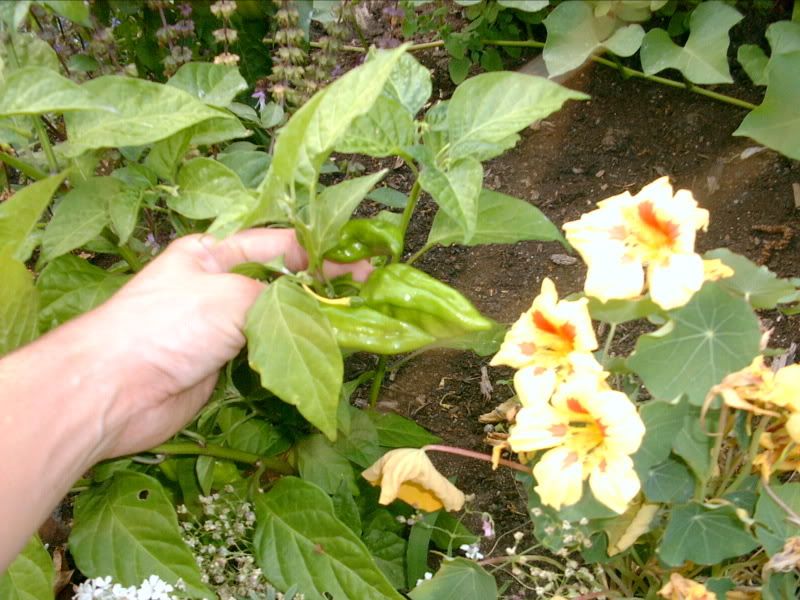 Finally!
The Recap:
To save you from searching through links to find out all about the excitement of fourty leaf fatali, let me tell you a tale.
Once upon a time, there was a man who was married to a plant crazed lady. She made him watch the children while she attended some excruiatingly boring seed event with a whole bunch of long haired organic types. He would have been dozing in the corner if it wasn't for their baby and toddler. To try and entertain the man, she suggested he pick out a hot pepper variety to grow.
He picked out fatali. The name, at the very least, sounded promising.
However, the plant proved to be anything but. It produced a ground total of 4 leaves the first year. Yes, four. Admittedly, it was smushed into a pot with two other peppers but that was only because the crazy plant lady assumed that the 2 leafed seedling was going to keel over at any minute when potting time arrived.
Well, crazy plant lady decided to try one of her crazy plant projects and brought the overcrowded pepper pot indoors for the looooooooooooooong Ottawa winter. She managed through much subtle negotiation to secure the coveted south window light for her babies. Noticing they looked unhappy in January, she repotted them. By this time, four leaf fatali had suprised her by turning into fourteen leaf fatali. Maybe it liked cold wintertime windows and low angled sun? It also produced buds, would it grow fruit? No such luck! The beds fell. The leaves started to look sad.
Crazy plant lady sighed.
But come spring, she stuck it in the garden in the designated hot pepper spot with what she presumed were others of its kind. Unfortunately, a wind storm had knocked over all her potted pepper babies and she had repotted them hastily, forgetting to make sure they were all labelled properly so Fatali is surrounded by sweet peppers.
Then fourty leaf fatali made more buds, and low and behold fruit!
More overwintered peppers
And my cayenne plants are producing their second crop. I think I'll try and overwinter some of the sweet varities this year.