Or at least as big as my niece's head.
1.
Start way too optimistically early
- like March, under lights.
2. Transplant in a 18 inch square space, ammended by half frozen manure, when you are still getting snowstorms even though you know that you should wait until it is reliably 7C outside at night or warmer (but not too warm).
3.
Cover with little cloches
and fret alot.
4. Figure there's no way these guys are going to make it and start another batch in April. Pretend you planned this.
5. Forget to water a lot.
6. Pick off cabbage worms, or better yet, do a little science project by bringing them indoors to watch them turn into butteflies. Lots of fun though releasing them does add to the pest population.
7. Wonder, when you get around to weeding,
if they will ever be ready
8. Harvest first and second crop (both survived) and wonder in amazement that it actually worked again!
9. Be grateful for the joys of gardening.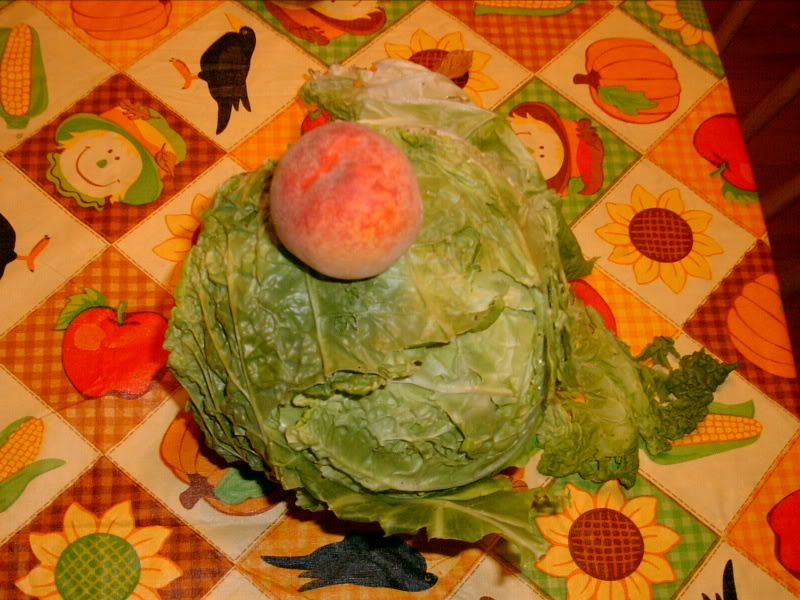 This cabbage has no lingering doubt when the spammers make comments about its size. Those holes on the outer leaves (the inner leaves were unblemished) are caused by an assortment of catepillars and slugs. But they left sooo much cabbage, I can't really complain.
Wait you really want to know how to grow great cabbages?
Veggie Gardening Tips is a blog full of great information about organic vegetable gardening and he's written a post to answer just this question!


Join
Gardeners, Plant and Nature lovers can join in every Sunday, visit
As the Garden Grows
for more information.