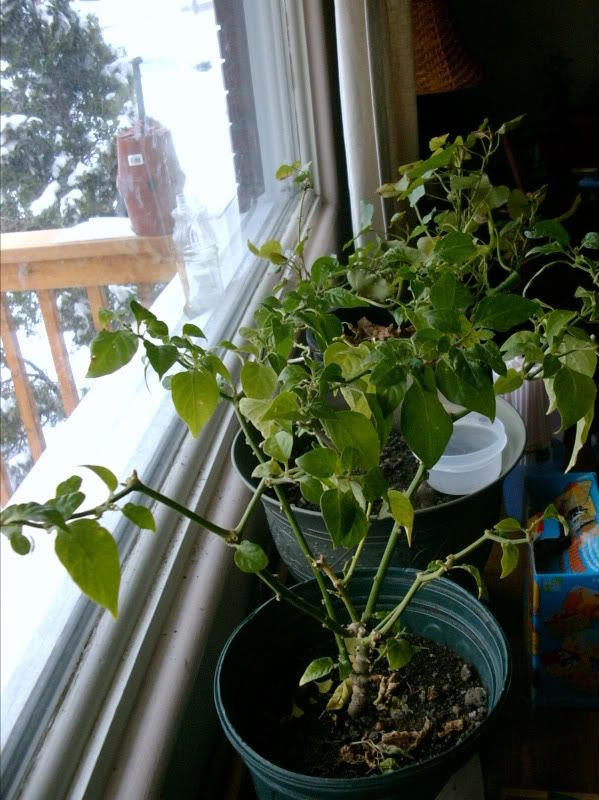 This is the first year that I have had to deal with 'bugs' on my overwintered pepper plants and they have taken their toll but none have entirely succumbed yet. I have done the soapy water thing, the crushing insect thing and the hard water spray thing. Now, I mostly just pick off the aphids when I see them, and put a water bowl in the pots to increase the humidity and scare off any spider mites.
My Fatali is doing okay. It has lost a lot of leaves but it is bravely trying to bud up and leaf out again.
My long cayenne is struggling along. It self pruned off its top last year and lost almost all of its leaves this year. Now it is sporting new aphid ridden leaves so we will see. I have noticed that over the years, the leaf size has dropped. Does this mean that it is near the end of its lifecycle?
I h ave only kept two peppers over the winter this year due to a lack of south facing window space but next year I intend on keeping some small fruited sweet peppers indoors as an experiment too. I can just see my husband's face now. I also hope to make sure there are no, absolutely no, aphids on them before I take them indoors!
---
Want to know more about overwintering peppers - please follow the pepper tag for lots more links and more about my saga.