Seedy Saturday 2009
A friend called the morning of
Seedy Saturday
asking if I wanted to go some place with her and her toddler.
I tell her, "Just about to head off to Seedy Saturday. Good for kids? Oh yeah. Don't mind me while I package my seeds. When are we going? As soon as possible. Okay, maybe I'll see you there. There's seeds. Yup. A trading table, information about organic gardening and related brick a brack, you know, the usual hippy fair. Artisan bread, that sort of thing. No, really there is a room for kids to do crafts, usually with seeds. I think it's supervised. Anyhow, my kids won't mind being stuck- Okay, well, hope to see you there."
True to what I had promised, all that I mentioned above was there. Most importantly were the congregation of small heritage / organic seed traders. This is great if you spend hours pouring over the seed catalogues like I do, dreaming of buying just one of those from them, and two of those from them and... the shipping and handling can add up after awhile.
One of my favourite seed suppliers, and I have many, is
The Cottage Gardener
. Here I've got her cornered but she is still smiling.
Cottage Gardener
I didn't get a picture of
Eternal Seeds
this time but boy have they expanded. Good thing too as they were popular enough that you had elbow your way in to have a look at their selection.
I also didn't get a good picture of
Yuko's Open Pollinated Seed
(I did get an artsy one with a floating lenscaps in front). Her plant and perennial sale is May 12th and 13th this year. Don't miss her warmly written webpage or her speciality 'chicken treat' seed pack.
However, I did snap a great shot of
La Vie En Rose
's stand.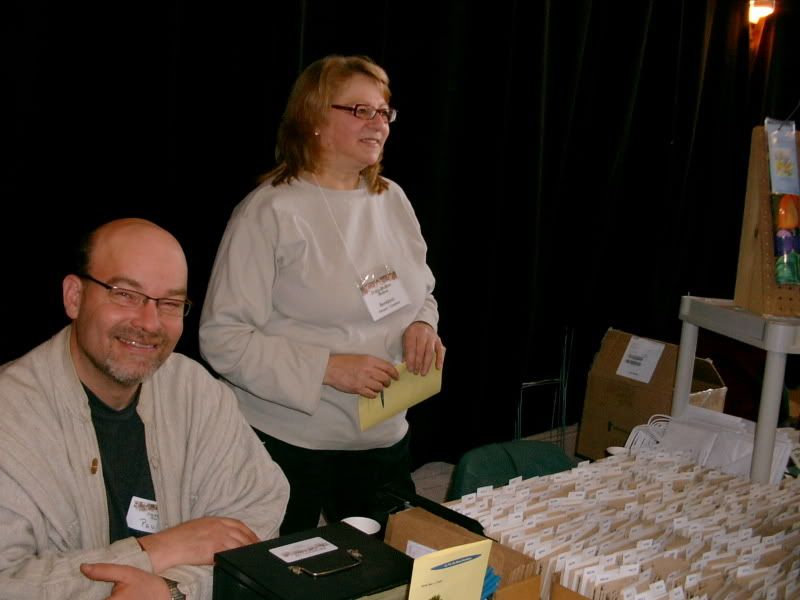 La Vie en Rose stand
This company is worth a feverish second look - the kind of look that develops on a gardener this time of year from lack of working in the soil - as they had an impressive selection of hardy flowers and iris.
By the way, the kids did have a lot of fun, with seeds: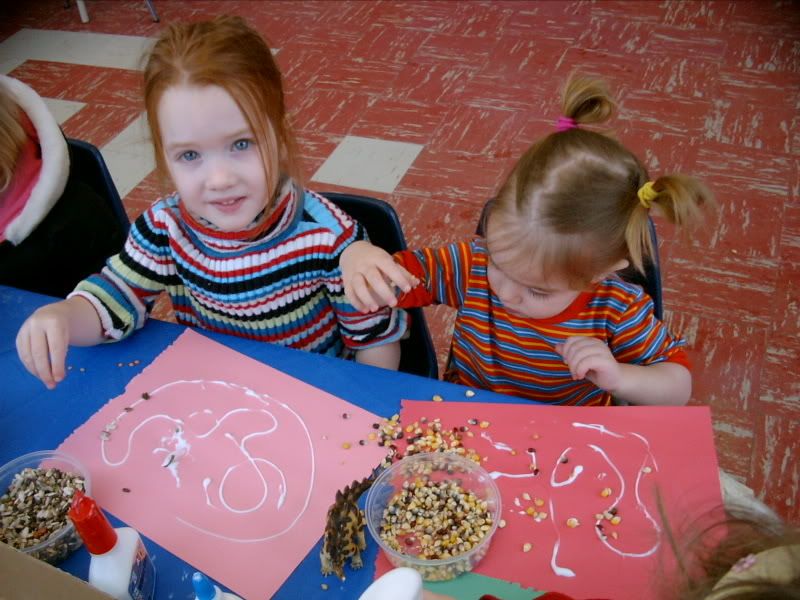 Kids in 'Kid's corner' playing with seeds and glue
And if you are wondering if all I did was shop, shop, shop, then I'll have you know that I picked up a fair number of trades too. Happily, I bumped into fellow Ottawa Valley blogger
'I Wet My Plants'
and discovered that those other packs of Cherokee Trail of Tears pole beans - besides my own - had come from the ones that I had given her the previous year. Which had, for those who are interested, originally come from the seed company the Cottage Gardener.
Now that we come full circle, remember to make a mental mark on your calender for sometime in the dead of winter 2009. If you see a women with outrageously long hair dragging two slightly bored kids and snapping pictures, it might be me. Say hi. Even if it isn't me, she'll likely smile back. It's a friendly event.