The hot pepper plants will need to come in out of the cold soon so I've dug them up and repotted them in a pot that gave room for their rootballs to expand. Despite this insult, they haven't so much as shaken off a leaf.
Caribbean red and fatali, both habaneros, I believe.
The
fatali
(with yellow fruit) is doing fabulous this year (year 2) and according to my neighbour is hot HOT HOT. How hot? Let's relive the conversation.
Me: "Do you like hot food?"
Neighbour: "Oh yeah, I love hot food."
Me: "I had quite the harvest of jalapenos this year."
Neighbour: "I don't find them too hot. Just a bit spicey."
Me: "I have a couple of really hot ones. A caribean red one and fatali."
Neighbour: "I've heard of that one."
Me: "Yeah? Want to try one?"
Neighbour: "Sure."
I go and get a fatali, gingerly, wrapping my shirt around it.
Me: "Here you go."
Neighbour: "Thanks." He starts to take a bite.
My face tenses but before I can say maybe you want to cook with it or something - too late.
Neighbour:"Oh yeah, it's hot. Woah. Yeah hot. Wow. That's hot. Ah. I have to go to the backyard now..."
So I guess it's hot.
Here are my jalapenos (also hot).
Jalapenos with stretch marks
My long red cayennes are also in their second year but the top halves have died off. You can see the small one in the foreground.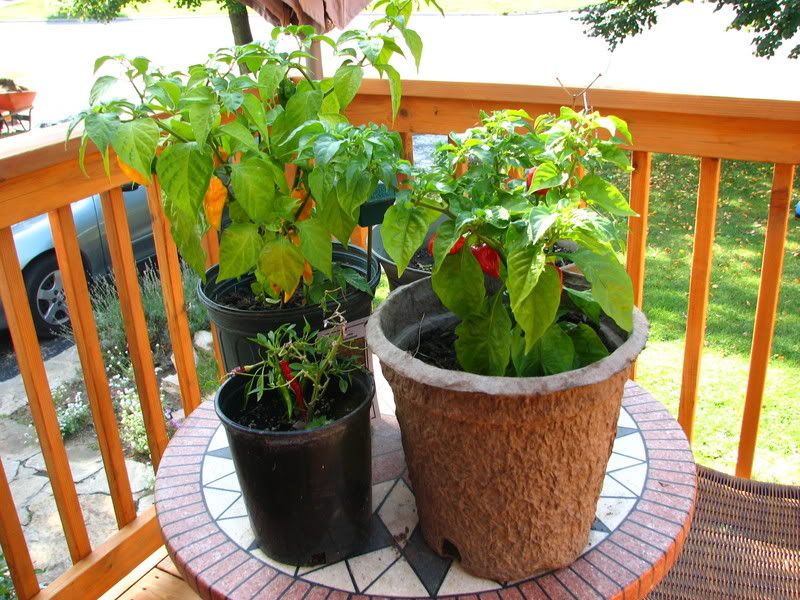 Hot peppers potted up for overwintering indoors, including long red cayenne.
Unlike the fatali, they were kept in irregularly watered pots all summer so I wonder if drought caused them to die back. Also, unlike the fatali that produced one crop, the cayennes produced several all summer. I'll re-pot them and see how they do this winter.
Links
Info on the
Scoville Heat Scale
for hot peppers