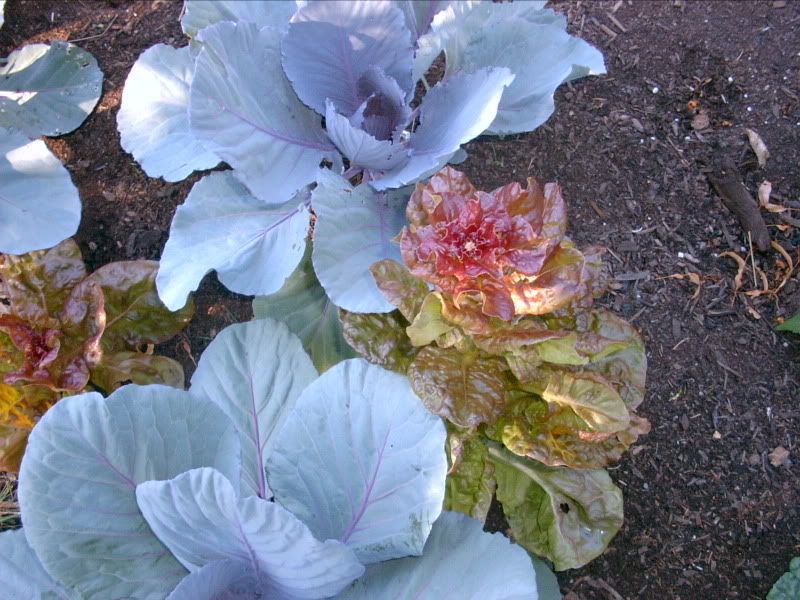 Purple cabbage and bolting lettuce (random picture).*
Okay, I luv ya garden bloggers, really. I love the mega popular blogs with their 54 comments which are a blog post in themselves. I love the obscure subject garden blogs with their on-point discussion and well researched posts (not to say that the former can't be the latter too). I love the meandering blogs which dabble in a little knitting and stray to posts about dogs romping in the snow. I love you all from the funny to the serious, to the constantly updated to the infrequently written BUT
I can't read them all!
There are just so many that I think I am developing blog-blindness. I try to scale down my reading so that it is manageable but I just have to leave an encouraging comment on that neglected blog with no comments that has fantastically written posts. I have to read the latest on
Empress of Dirt
and her 'Snow Punnies.' I am deadly curious how much gardening
Heavy Petal
is going to get up to with the baby on the way - I hope lots -, or what
Bifucated Carrot
is going to uncover on his wonderfully political organic gardening seed saving blog. But there is more, what will
Crafty Gardener
create, what story will
Kate Smudges in Earth, Paint and Life
tell us and what will
A Study in Contrast
find in her garden?
Oh and, of course, there is
Blooming Writer
who is in the process of writing something, something about blooms? A book perhaps? What will it be about? I'll have to read and wait. And... and will
My Grandpa's Garden
's jellybeans sprout? Will
Northern Exposure
ever have snowdrops ;-)?
Seeded
has discovered winter sowing, will it work out? How can
The Gardeners Anonymous
blog make me jealous with her glorious garden today? Is
Growing Thumbs
really growing thumbs? How deep exactly do
My Roots Run Deep
go? Will
May Dreams Garden
find her microclimate crocus soon? Will
Root Cause
make me want to grow another obscure veggie?
There are more and if I didn't mention you, shame on me but please forgive me. It's the blog blindness setting in again.
---
*Why did you stick a picture of lettuce and cabbage in this post that clearly has nothing to do with lettuce and cabbage? What if I was really interested in interplanting late season brassicas with fast maturing lettuce and wanted some information about it? Or what if I wanted to know what varities (mammoth red rock, four seasons lettuce, I think) you were growing that had such wonderful colours? Hey, did you ever think of that you trickster blogger? What were you trying to do, get me to come to your blog because of the picture?
Yes. Some searchable places (
Blotanical
), use pictures in their summaries and well, sometimes you are scanning really fast and ... Thanks for visiting?