Most gardeners, even the avid kind, hesitate to site their veggies in the plain-view-front-garden even if it is the coveted south side of the house. Veggies, and other edibles, are seen as the utilitarian and best relegated to the backyard. But in the interests of demoting the lawn, let's discuss some attractive options for supping on what you sow.
Expand and snack
(comment about pictures: for some reason, wide angle shots aren't popular so most of the linked photos are closeups to my chagrin).

Take the standard perrennial flower bed flanking either side of the entrance to the house, expand it by 2 or 3 times, spread out perrennials as foundation plantings, and fill in the spaces with vegetables. Of course, many vegetables will start out small, or be harvested before the end of the season which means that a little planning is needed such as combining fast and slow growing plants or replacing spring / summer crops with fall crops.
Here are some attractive veggies to grow proudly in front of your abode.
Lettuce
comes in a miriad of leaf colours and shapes from open headed to the tightly coiled. Combine with any number of brassicas such as the bold heads of
cabbage
or the hardy (and equally varied)
kale
which lasts until covered in snow.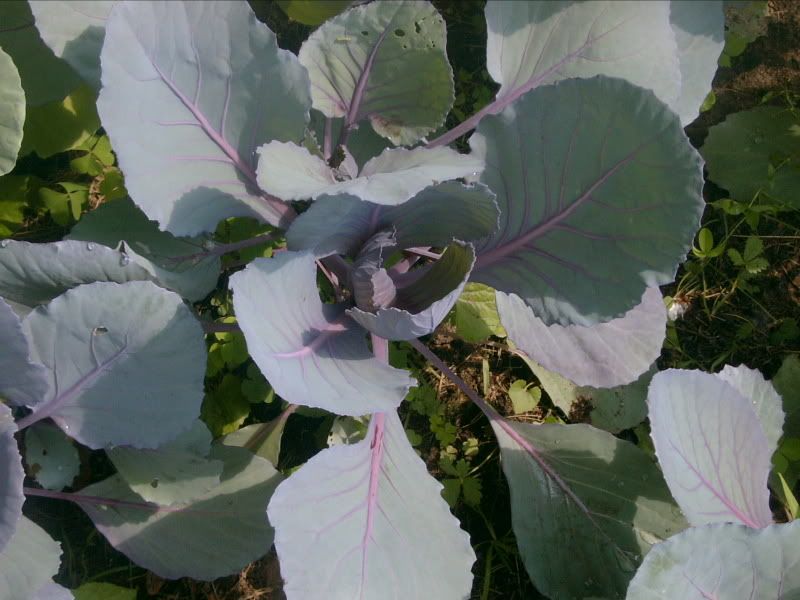 Young Mammoth Red Cabbage (ignore the weeds)
There are many other leaf crops that are interesting to the eye such as
orach
(linked picture, red plant) whose striking seed heads rivals the purely ornamental. The oft mentioned 'bright lights'
swiss chard, parsley,
the deeply cut leaves of
mizuna,
and
bull's blood beet
complete a sumptuous salad
.
For every theme, you have a vegetable. Need fall colour? Add the bright fruits of hot peppers whose leaves vary from the
variagated fish
to the deep purple of black pearl. Want something bold and architectural? How about
Cardoon
with it's long serrated leaves, or
Palm Leaf Kale
. Have a grass garden? Try
striped maize
(okay not actually listed as edible... but oh so pretty). Want something to climb a trellis? Where do I start... Of course, the famous
scarlet runner bean
, whose equally beautiful salmon coloured cousin
-
Painted Lady
deserves a mention or instead of growing sweet peas, try the
blue podded Capucijners pea.
I have not mentioned the cucurbits mostly because they are suseptible to a host of mildews that can make them unsightly by the end of the season, but if you have less of a problem with that, then why not try a
mini pumpkin
?
Tuck in a tomato plant, or two, for a snack as you walk by. Grow the feathery foliage of florence fennel, the bent or spiralled flower spikes of
garlic
or the blue toned strap like leaves of
leeks
. The ideas do not stop with mere vegetables of course. Need a tree, or shrub with long season interest? Why not a
sour cherry
that flowers in the spring and has fruit in the fall?
Pretty Potager
Are you now so inspired, you are wondering why you should bother with mere flowers at all? Perhaps you are ready for the potager. That's french for, we like food better than flowers too - or at least it should be. If you are not familiar with the potager, imagine a riotess combination of cut flowers, fruiting plants, vegetables, often contained in a geometrical pattern.
What makes some people hesitant to plant just any veggies in their 'plain view' is that they can be (and we hope that they are) vigorous, even rangy looking. One way to conteract this is by containing their exhurberance in a geometric shape such as four squares surrounded by clipped boxwood or raised beds lined with stone or wood. Between these gardens are pathes, and perhaps a focal point in the center such as a sundial, or a chair so that you can admire your handywork.
To make a vegetable garden more landscaped... landscape it. Sounds radical? It did to me at first. Here are some ideas:
Make beds and pathes permenant.
Use ornamental trellis or arbours as vertical elements
Grow fruit trees as fans or columns
Add edible flowers such as nasturitum, cosmos or borage
Add cut flowers
Companion plant herbs as a border or interplant
Plant veggies in blocks such as a ring of lettuce around a giant cabbage - think of creating tapestries of colour
Grow a knot garden with herbs.
It took a while to convince my hubby that we should put a mini orchard in our front yard but now he's happy with the gooseberry / black current hedge, the fruit tree focus points, and the foliage kale. We'll see how he feels about the raspberry extension to the lavender hedge but I suspect sweet success with our first harvest.
Stay Tuned
For: Go wild, really wild
Links:

Edible Flowers by cook's thesaurus
Edible Flowers by Colorado State University Cooperative Extension
One of the many sites on companion planting
Scroll down for a cool picture of little red lettuce trees.

Parsley as butterfly food - leaf a bit for the catepillars and get even more beauty

Clearly an artist's garden - Bonnie Meltzer

Pumpkin in the evergreen