I came for some seeds, not many because my seed drawer is embarrassingly full, but a few for my daughter's garden. I asked her what she wanted and with her fanciful child's mind, she answered, "I want tomatoes - black tomatoes, little ones." Sure, I said, because I knew that this was an organic, heritage seed sale, where such things were possible. We found it at
La Ferme de Bullion
: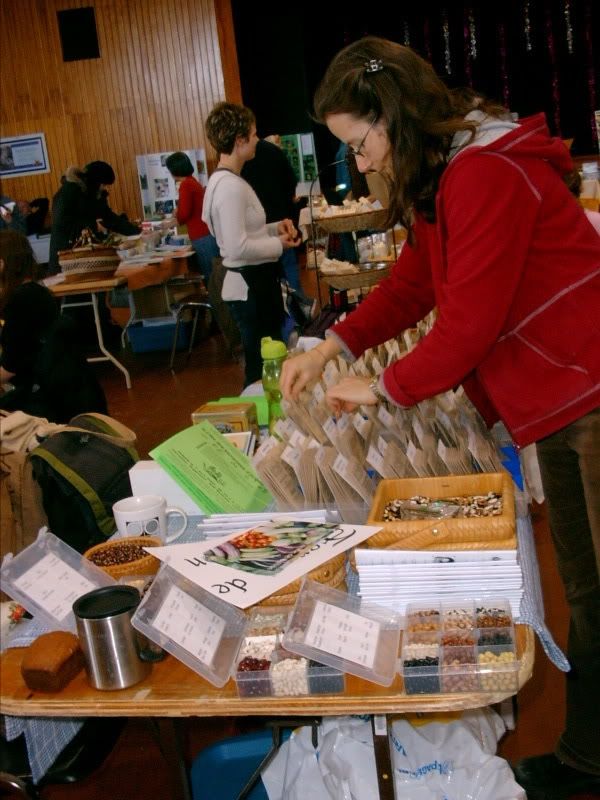 Black Cherry

Mid-season, indeterminate. Round 1" fruit
with rich brown colour and distinctive "black tomato" flavour - sweet and spicy. 70 days.

Pictured here is La Ferme de Bullion seed display being set up by Heather (I believe). They are a family organic farm located 45 minutes north of Montreal, at the foot of the Laurentian Mountains who uses and sells OP seed.
There were lots of other seed vendors, including:
Greta's Organic Gardens
which will also host a plant sale (open daily) in May and June. She will be selling Over 50 varities of tomatoes, vegetables, herbs, lots of heirlooms, and aquatic plants and fish.
Yuko's Open Pollinated Seed, whose website I love for its personal touches - her on the right.
It is the local place to go for asian seed and more. She also has a tomato seedling and perrenial sale, on May 12 and 13, from 8am to 2pm.
La Vie en Rose Gardens carries a wide collection of flower / ornamental seeds. They also sell bearded iris (My left hand is preventing my right hand from reaching into my cheque book), and garden accessories. Growing up in the lush temperate rainforest of coastal BC, the complex and delicate petals of the beareded iris made it my favourite flower.
Eternal Seeds with their victorian styled paper catalogue has a good selection of vegetables, herbs and flowers, even some books.
Heritage Seed and Produce, whose stall I did not get to visit long but who farms in the 'heart of the Rideau Lakes'. To quote his homepage (content soon to follow), 'Feed the dirt, not the plant.'
Seeds of Creation (seeds-of-creation@hotmail.com) - This is her first year at Seedy Saturday, pictured below right. She told me that she has been saving seed for 18 years, and grows 'high in the Madawaska Valley...' And I continue to quote: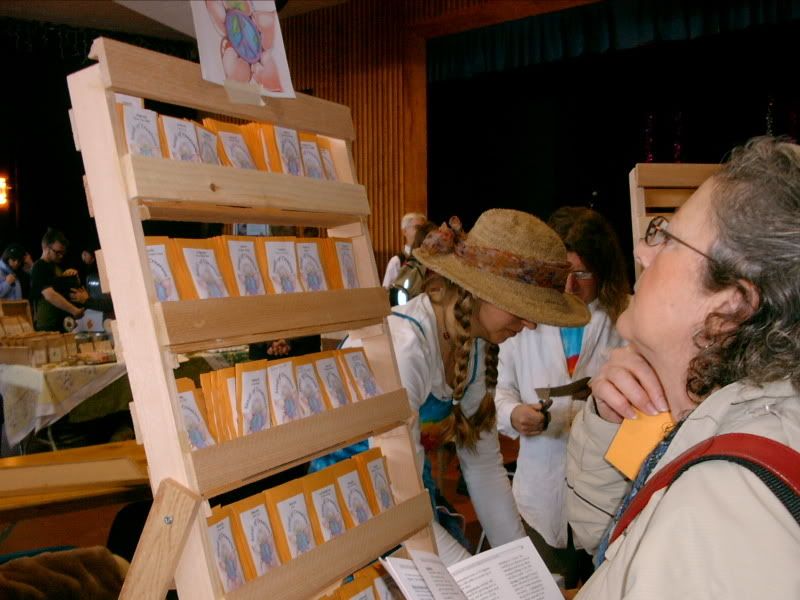 '... on an isolated bio-dynamic, self-sustaining, BEYOUND ORAGNIC, 300 acre farm, that's way off the grid! We herby certify, with the God-given word, that we grow BEYOUND ORGANIC, this means; that there are no chemicals or synthetics used for any crops grown here, that every level of life and craetion is up-held and respected...'

She had a basket of carrots which were very tasty - my girls and I shared some.

By the way, I asked her if it was a lot of work saving seed for sale and she said that the packaging was the least exciting part but that it was a labour of love!

Under the grovy picture on the front of their catalogue, it says 'Nothing ever comes from Nothing.'

Swap Table

Too true, but you did not need to have money to get seeds at Seedy Saturday, you just needed to bring some of your own (all the more reason to save seed, eh?). They even had some branches from an Ida Red apple for grafting. If I had known that I could have added some plum!
Because I am possibly the worst organized parent in the world, I forgot to bring my seed for trade, but the nice swap table coordinator saw me eyeing the egyptian topsetting onion and offered me some bulbs to try.


Speaking of kids

They were not left out of this event. A craft room was set up with containers of seed, emphasizing their amazing variation. I really liked the corn.

It was also great to hear so many kids ask their parents for plants. Did you know your eight year old could be into gardening? Well maybe not weeding but... all in good time. I heard a five year old beg for beans, and a middle schooler dance because he got white pumpkin seeds.

And that's not all


There were other purveyors of natural supplies such as Urban Forest Soap, Honey Pie Hives and Herbals, Terra Foods Extra-virgin Greek Olive Oil, Homestead Organics Farm Services, Hunts Wholesome Honey, Green House Books, and Nature Candles by Marlene, as well as The Collective Conscience, a delivery service for natural and organic products from comsetics to party supplies.
I would also like to highlight the Tucker House featuring the Bunching Onion Community Shared Agriculture which offers you organic vegetable boxes when you purchase a small share in the farmer's crop in spring.
And a hearty welcome to the new Cumberland Farmer's Market, which was open a couple days last year but will be open - correction (my mords were wuddled) Saturdays, starting June 23rd, until Sept 15 -.

If you were feeling hungry after all that, don't worry there was lots to eat. My kids loved the cookies at this bread shop (what was their name).
A is for Activism, B is for Beans

Choosing not to use chemicals, and growing open pollinated seed that can be saved for future generations is a political action. It is tied up with all sorts of issues that effect our consumer culture and it shows. These events are always filled with activism.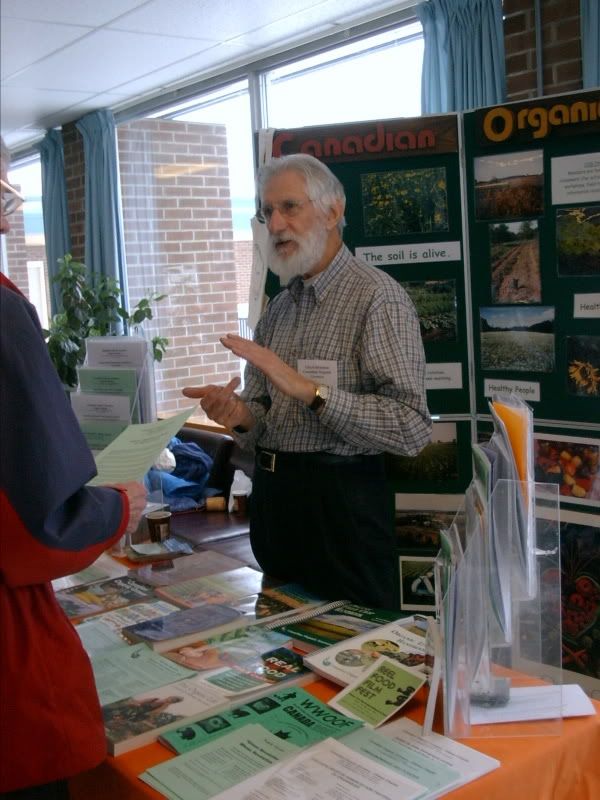 Canadian Organic Growers Society. I bought the book Seed to Seed by Ashcroft.
The subjects run from the campaign to Ban the Terminator Seed to Awareness to Action , a campaign to challenge the bottle water industry. But if you prefer your mind to be enlightened by film, then check out the Reel Food Film Fest, Ottawa's First Film Festival Decidated to Food.
There was more
What you need to sit down? Plenty of time during the many free talks that were offered on organic gardening matters. I was not able to attend tagging my rambunctuous toddlers in tow but one year soon I will report.

Links:
Heritage Seed Sellers in Canada
Greta's Organic Garden List of vendors
More seedy saturday events in Canada
Canadian Organic Growers

Other blog entries on seedy saturday

You Grow Girl
As always, I'd love to add more, especially recounting of the event itself.