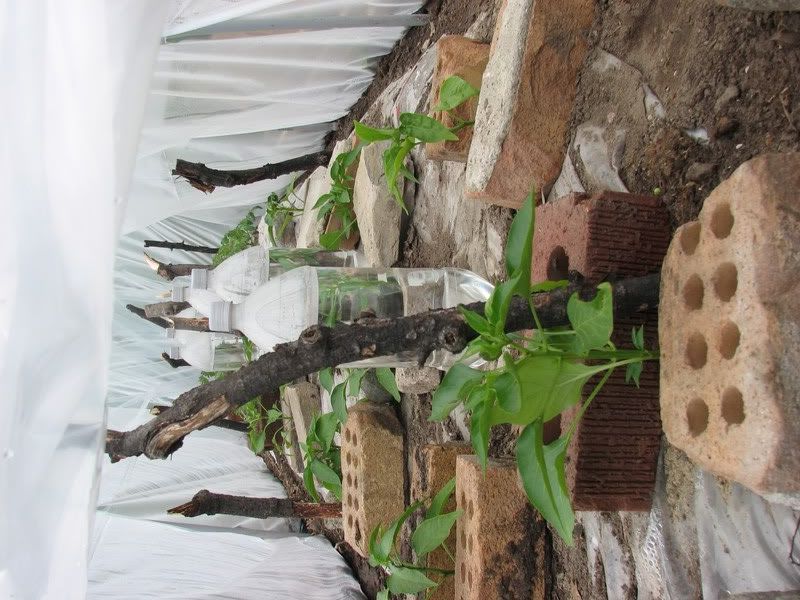 Peppers inside polytunnel * more at bottom *
Conversation with friend over for supper:
Friend: I hear there is a possibility of frost.
Me: Really?
Looking outside at cloudy sky and remembering that it is only supposed to go down to 4C
Friend: Well I heard it on the radio, maybe it's changed.
Me: Huh, be right back.
Staring at pessimistic weather report by environment Canada:
" Cloudy. 30 percent chance of showers early this evening. Clearing near midnight. Low plus 1 with patchy frost. "
Me: Thanks, I think I have to go outside for a minute.
Hubby gives me that look.
Me: I'll be right back.
Quickly, I throw winter blanket back inside of polytunnel.
Problem is that it is already clear at 10pm but 6C!
According to optimistic forcaster, the Weather Network:
Humidity 100%, Conditions Clear, low 4C.
However, the dewpoint is 1 and the humidity, currently, is 70%.
Who is right, time will tell.
And since I'm writing this, time for another frost fact:
The reason why people use water to keep crops from freezing either by using a sprinkler, wall of water or other device is not so much because the water traps heat and releases it during the night but because cooling, especially freezing water releases heat.
Same thing?
Not exactly. When you freeze water, in other words, change its state of matter, the forming of bonds causes heat to be released. This is why ice forming will warm the area nearby.
Irrigation causes the formation of ice which helps prevent crop damage.
Counterintuitive but true according to my research.
To that end, I have placed pop bottles in my polytunnel. More on that tomorrow, if the plants survive.
---
*
The ground has been pre-warmed with clear plastic mulch.
Sticks are being used to support the winter blanket I am using as a 'row cover'
Pop bottles 3/4 filled with water and bricks are being used to store heat but see above about why water is used to prevent frost.
Peppers slightly squashed because I didn't use the sticks the first night with the winter blanket.