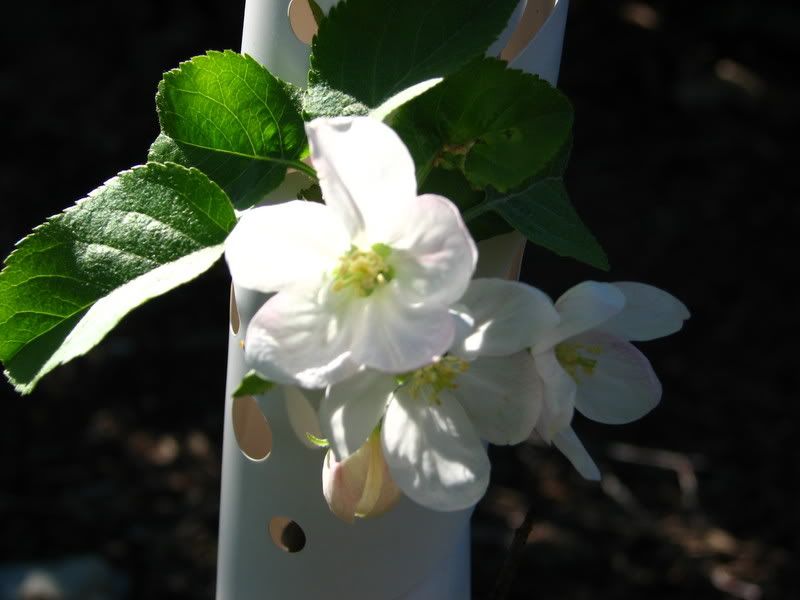 Apple Blossoms - pretty plant interlude
I woke up early, gingerly looked out the window and noted no white glaze on the rooftops... good. But it was clear and sunny which I was not expecting. With my heart in my throat, I went outside.
It's alive! It's alive!
In fact, they all are!
The low last night according to The Weather Network was only 4 C (with a dewpoint of 0). Much higher than the forecasted 2C.
Tonight, they are predicting 4C again but I suspect that might be subject to change, hopefully upwards.
As promised, another frost fact:
Dewpoint and frost.
The dewpoint is the temperature on a given night when water will condense out of the air forming dew. At this point, relative humdity is 100%. If this dewpoint is below 0C then frost instead of dew will be formed.
A high dewpoint means that temperatures will drop more slowly, and a frost is less likely. However, a clear night with low humidity and a low dewpoint means that temperatures are able to drop much more quickly. Frost becomes more likely.
The dewpoint tonight will be 4C according to
farmzone
, much toastier than the -2C that it is right now.
Links:
A good explanation for grows about dewpoint and frost.