Regular chives
If you want a glorious Ottawa garden in late May, these were the stars that stole the show in my neighbourhood gardens:
Nursery Regulars:
Ground Phlox
Lilac
Stonecrop
Tulip
Ajuga
Columbine (non native)
Giant Alliums
Dwarf Iris
Native (what a month for them!)
Bleeding Heart
Solomon's Seal
Foam Flower
Trillium
Columbine (native)
Tall Phlox
Bunch Berry
Violets
Ferns uncurling
Anenome
Vegetables (based on my garden)
-- the greens have it --
Rocket
Mache
Early Leaf Lettuce (the heading is just getting going for me)
Spinach
Broccoli Rabe
Chives
Turnip greens
Beet thinnings
Rhubarb
In the works:
Bearded Iris, who has been waiting impatiently in the wings, is just putting on her costume, so are oriental poppy, jacob's ladder, peony and dianthus (pinks). I even saw a flower on my rugosa.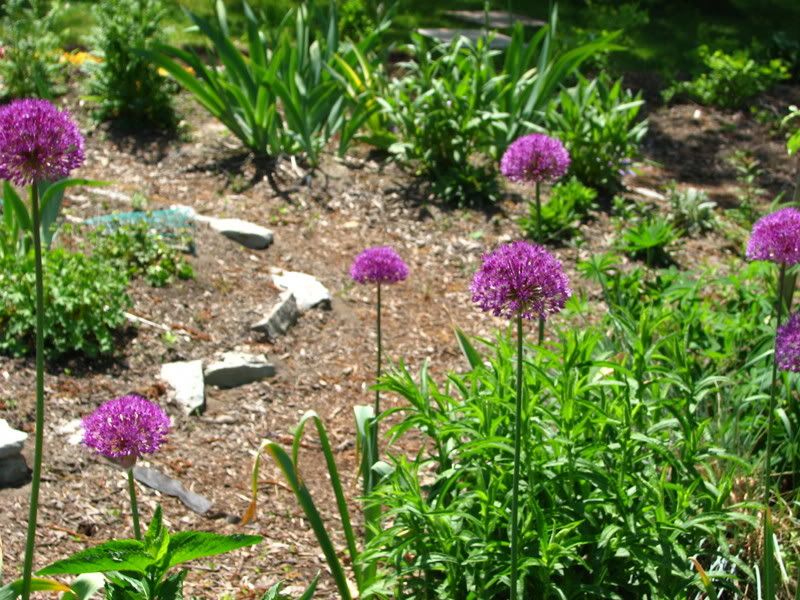 Giant Alliums

Join
Gardeners, Plant and Nature lovers can join in every Sunday, visit
As the Garden Grows
for more information.