I am taking in the harvest a tad early because I need to make room for some other plantings. However, the garlic bulbs are still sizeable: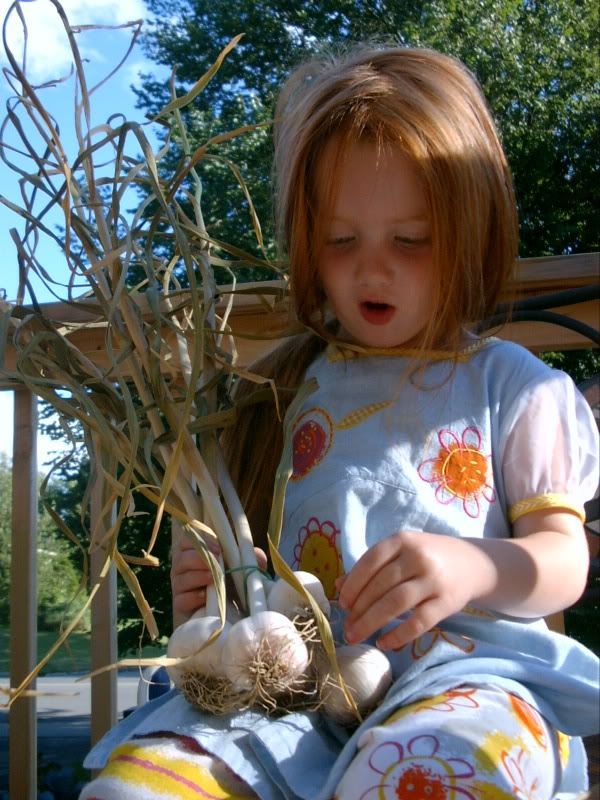 My eldest and a bunch of garlic.
These are a hardneck variety, perhaps Russian Red as they have red skins inside though I can't be sure. My plant labels disappeared what with the many feet of snow, the great thaw times 2, various critters and helpful children.
I believe I planted Russian Red, Music and um... some other kind?
Whatever they are, they all sent up scapes (those are the flower buds on the garlic, a delicacy in themselves). They are also all deliciously fresh and crisp unlike those dried out, wimpy store brought ones.
All the varities I planted were purchased at the
Carp Garlic Festival
so have adapted to local growing conditions. It's a great way to get a variety of garlics to try at a reasonable prize if you are in the Ottawa area. Best of all, you can spend all day tasting garlic treats without a thought to your breath. Everyone's wearing the same perfume there.
But I promised you a short tutorial:
Hardneck versus Softneck.
The first difference is obvious, hardnecks, like in the above picture, have a hard stem - don't try and braid this kind of garlic.
But there is more, hardneck tend to flower giving you an extra crop of delicious scapes before the bulbs are ready. They also are the preferred crop for many northern growers and store about 3-6 months.
Softnecks are apparently more adaptive and productive and given the proper conditions will store for up to a year. However, they are more commonly grown in southern climes. That's not to say that they will not grow up north. They will.
My experience with my own garden is that the hardnecks are much more productive and healthier looking in whereas the softnecks were smaller and more prone to yellowed leaves. However, I have not tried a huge sampling of different varities yet!
Links:
More about different types of garlics
Garlic growing link, lists varities
How to braid garlic
Garlic SHOW braid
- crazy fun