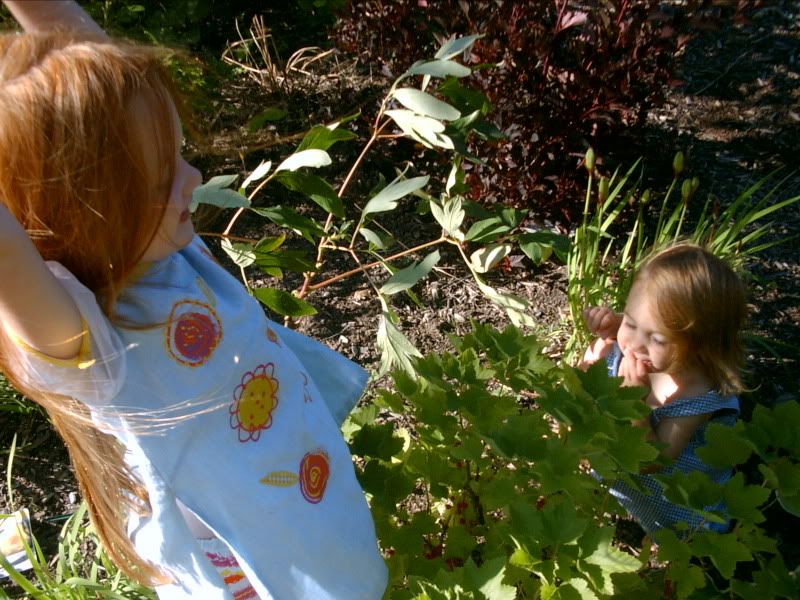 Kids raiding the current bush
"Let's go for a car ride kids."
"Where? To the park?" Says my three year old.
"No to the nursery."
"Park, park," shouts my 18 month old.
"Nursery? Boooooring," says my three year old.
"Park, park."
"No park, nursery."
"Park, park."
"More plants?????!!!!!" Whines my three year old. "You have looooooooooooooooots of plants."
"I'll buy you guys a treat."
"Yeah! Treat."
"Treat, treat," shouts my 18 month old.
So my kids don't love weeding. And they don't enjoy slowly touring the long tables of plants at the nursery. But they do love the garden in their own way. They hide under the bushes, and crawl through the tall grasses. They wind their way along the spiral path at the front and stop for snacks from the 'berry places.' My oldest knows a little latin and they both like watching as the baby plants grow and bloom, the rain pours down and the wind blows their hair.
They do help a bit by digging holes, overplanting seeds, and adding their own eccentric touches:
Glow in the dark garden dino.

Join
Gardeners, Plant and Nature lovers can join in every Sunday, visit
As the Garden Grows
for more information.